Walsh Recognized for Nickel Plate Music and Arts Festival Efforts
General
Posted by: Fulton County 1 year ago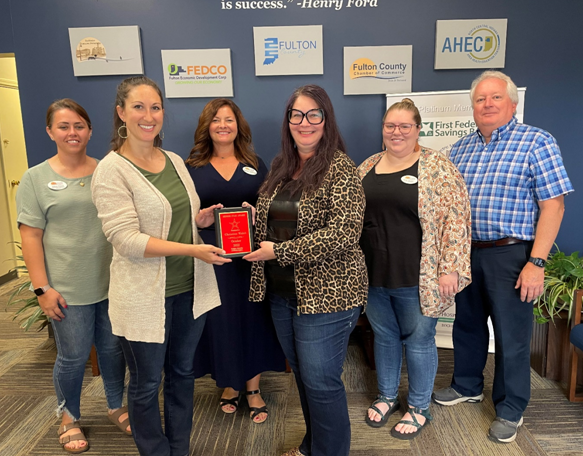 The Fulton County Chamber of Commerce staff and board of directors presented Christine Walsh with the Shining Star award on October 6.
The Shining Star award is presented to an individual or business who has gone above and beyond to be a Shining Star in and for the community.
Walsh was nominated for and received this award for organizing the 2nd Annual Nickel Plate Music and Arts Festival held on August 27.
A Rochester native, Walsh returned home to make a difference in her community. She envisioned hosting a festival to encourage children and families to engage in the arts and found that being the Chair of the Rochester Downtown Partnership (RDP) Promotions Committee would provide her with the perfect opportunity.
Along with the RDP, Walsh worked diligently with musicians and artists to organize and provide entertainment during the event, established an outstanding volunteer group to support the event, and worked with businesses and other donors to raise funds and cover the costs associated with the event.
The Nickel Plate Music and Arts Festival was a very successful event, drawing hundreds to downtown Rochester.
Walsh and the Rochester Downtown Partnership are now planning Boo Fest and the 2022 Holiday Stroll.RDP is a 501c3 nonprofit Indiana Main Street organization.
If you would like to volunteer with or donate to the organization, please contact Harry Webb at 574-223-7373 or info@rdpworks.com. Your donation may be tax deductible.